From a new post by Steve Maas:
"New Evidence that Unions Raise Wages for Less-Skilled Workers: Tapping into eight decades of private and public surveys, a new study finds evidence that unions have historically reduced income inequality.
For Unions and Inequality over the Twentieth Century: New Evidence from Survey Data (NBER Working Paper No. 24587), Henry S. Farber, Daniel Herbst, Ilyana Kuziemko, and Suresh Naidu assembled a household-level database on union membership dating back to 1936.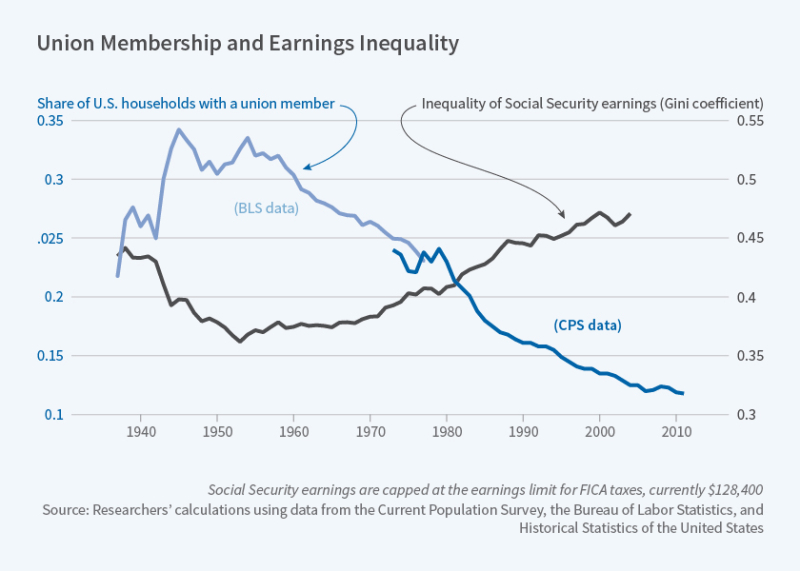 The U.S. Bureau of the Census has tracked wages and education consistently since 1940. Aggregate data on union membership goes back to the early 20th century, but data on individual workers were not readily available until the Census Bureau started asking about union affiliation in 1973. By that time, unions were already in decline, and higher-skilled workers accounted for an increasing share of their membership.
The researchers draw on more than 500 surveys conducted by Gallup and other pollsters from 1936 through 1986, extending their dataset into the present day with information from government surveys and other sources.
Their study finds that the salary premium for union members compared to workers with comparable skills and demographic characteristics has remained relatively steady over the last 80 years despite large swings both in the overall number of union members and in their education levels. The less skilled the workers were, the greater the wage premium associated with their union membership. The researchers find a negative correlation between unionization rates and measures of inequality such as the Gini coefficient.
Between 1940 to 1970, when unionization peaked and income inequality narrowed, unions were drawing in the least-skilled workers. Before and after that period, unions were smaller and a higher fraction of their members were drawn from the ranks of high-skill workers. The 1940 – 1970 period also coincided with the highest share of union members drawn from minority groups.
The clear implication of the researchers' analysis is that, because unions offer a larger wage premium to less-skilled workers, unions have an important equalizing effect on the income distribution to the extent that they are successful in organizing the less-skilled. Recent decades have seen growth in educational attainment in the workforce, and, importantly, not only has the overall share of workers who are unionized declined, but unions have also become relatively less successful in organizing less-skilled workers. The remaining unionized workforce is more highly educated than it was earlier. The combination of the declining presence of unions in the labor market and the increased skill level of the remaining union workers means that the important equalizing effect of unions on the income distribution that was seen in the middle of the 20th century has diminished substantially."