A new post by Brian Schaitkin says that "Economist Michael Mandel of the Progressive Policy Institute tells a reassuring story about what will happen to retail employment. Jobs behind retail counters and stocking store aisles will simply be replaced by jobs at warehouses, e-commerce facilities, and as delivery drivers." How quickly will this happen? He provides forecasts under the "Apocalypse is an Exaggeration" and "Apocalypse is Ongoing" scenarios:
"[…] Under an "Apocalypse is an Exaggeration" scenario, e-commerce will grow at a modest pace as a share of total retail sales because many of the lowest hanging e-commerce fruit have already been plucked. Therefore, the transformation from in-store retail to e-commerce would take quite a long time. The logistical challenge of shipping books to individual customers is orders of magnitude less complicated than delivering groceries. The "in-store" experience also provides special value to some consumers, especially when the ability to touch and feel merchandise and consult with experts is part of the value proposition stores and their workers provide. Firms will learn how to adapt to the challenge of e-commerce in less easily adapted industries, but because of these challenges, growth in the e-commerce share may increase by only 6.8 percent every 13 years, as happened between 2005 and 2017.  Under this scenario, the share of e-commerce in retail sales would be 21 percent by the end of 2040, and the "old and new" retail sector will employ 16.8 million workers, compared to 17.6 million today.  A disappointing job trajectory to be sure, but hardly apocalyptic."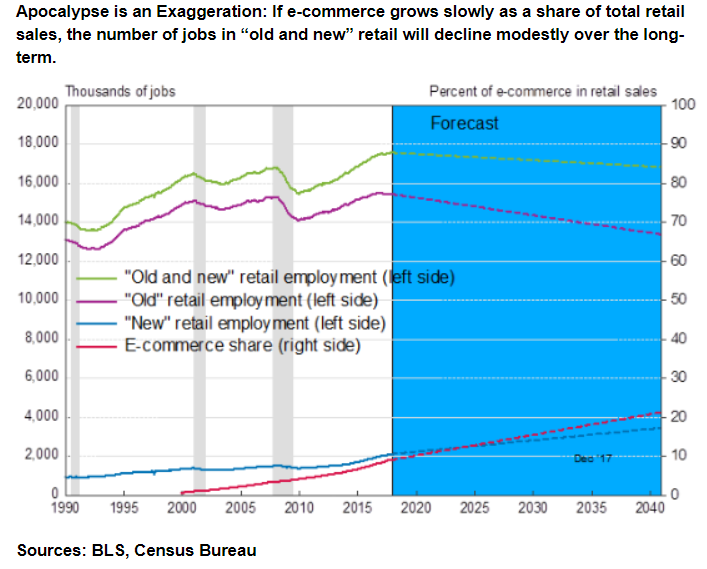 "The 2005 to 2017 period though lights the way to a bolder, yet in my view more likely "Apocalypse is Ongoing" scenario. This scenario assumes that exponential growth of the e-commerce share will continue as it did from 2005 to 2017 meaning that the e-commerce share of retail will double every 6.5 years. Incentives for firms to adapt new sectors to e-commerce will be tremendous due to the convenience and efficiency commerce without stores can provide. Companies can apply the lessons from developing one form of e-commerce to new product areas with knowledge of the pitfalls they are likely to encounter. Under this scenario, e-commerce would represent 18 percent of retail sales by the middle of 2024, 36 percent by the end of 2030, and 100 percent by the middle of 2040.  Initially, job losses resulting from the shift to e-commerce would be small in "old and new" retail with 738,000 jobs disappearing between now and the end of 2025.  By 2040, however, only 12.1 million workers, all employed by "new" retail sectors, would be able to manage all retail sales activities, a loss of 5.5 million jobs."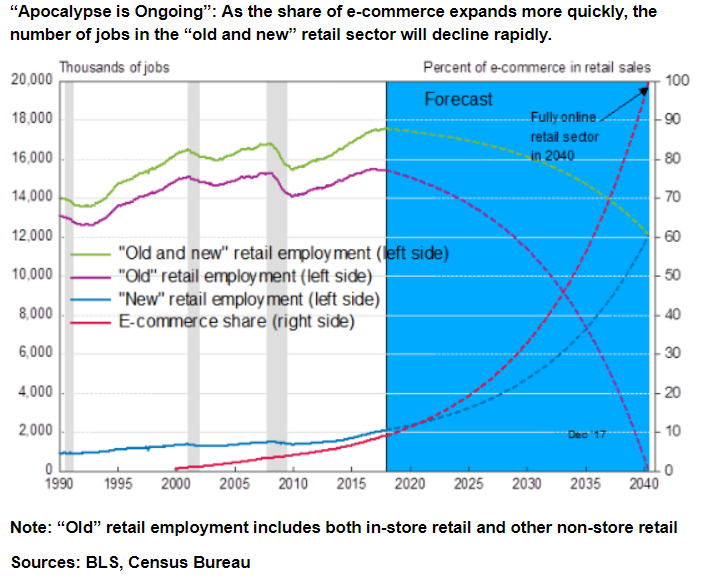 Continue reading here.