Economic growth has traditionally moved in tandem with pollution. But can countries break this link and manage to grow while lowering pollution?
Our research, based on joint work with Gail Cohen and Ricardo Marto, shows that yes, progress is being made. Our evidence is clear: advanced economies are starting to show signs of decoupling—increasing growth while reducing pollution—but emerging market economies not yet.
The chart summarizes our evidence on the link between the trend (long-run relationship) in greenhouse gas (GHG) emissions and the trend in incomes. Our analysis covers the world's top twenty largest GHG emitters from 1990 to the present. Over this time, incomes have grown—the trend is positive—despite dips due to occasional recessions and financial crises. But what has happened to trend emissions?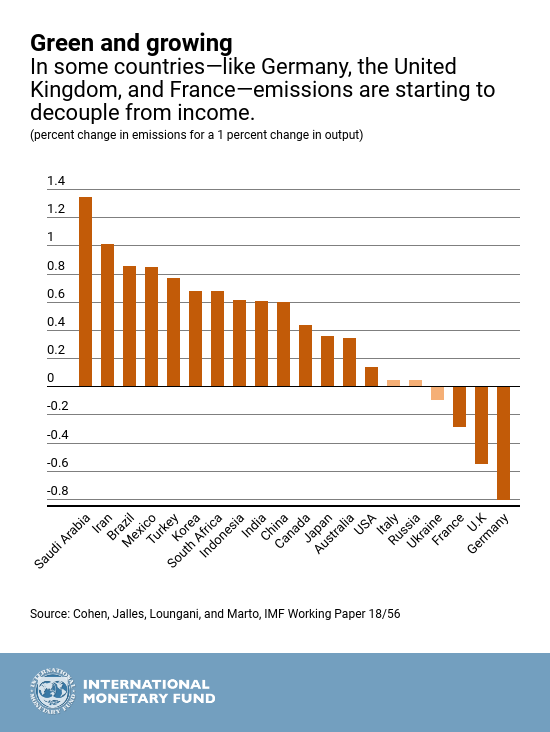 The bars in the chart show the percent increase in trend emissions for every 1 percent increase in trend incomes—economists refer to such estimates as elasticities. Look first at the three cases on the far right of the chart—Germany, the United Kingdom, and France. For this group the elasticity estimates are negative: emissions have fallen despite the increase in incomes. These countries have achieved decoupling of emissions and output. Our results show that this is due both to active policies by these countries aimed at decarbonizing their economies as well as the structural transformation of their economies towards a greater role for services.
Continue reading here.