From the Independent Evaluation Office report on the IMF and Fragile States:
Executive Summary
"This evaluation assesses the IMF's engagement with countries in fragile and conflict-affected situations (FCS). Helping these countries has been deemed an international priority because of their own great needs and the dangerous implications of persistent fragility for regional and global stability. With its crisis response and prevention mandate, the IMF has a key role to play in these international efforts. In practice, its contribution has been subject to considerable debate, and critics have called on the Fund to increase its engagement."
Key Findings
"The evaluation recognizes the important contributions that the IMF has made in fragile states, including helping to restore macroeconomic stability, build core macroeconomic policy institutions, and catalyze donor support. In these areas, the IMF has provided unique and essential services, playing a critical role in which no other institution can take its place. Though the progress made by many FCS to escape fragility has been disappointingly slow and subject to reversal, it must be recognized that work on fragile states is inherently challenging, given their generally limited capacity, weak governance, and often unstable political and security environment. Moreover, the outcome of any IMF intervention is critically influenced by political, military, and security decisions including by international actors outside the Fund's control. Against these challenges, the IMF on balance has performed its various roles quite effectively, particularly in years soon after countries first emerged from periods of violence and isolation."
"Despite this overall positive assessment, the IMF's approach to fragile member states seems conflicted and its impact falls short of what could be achieved. Even though the IMF has declared in several pronouncements that work on FCS would receive priority, it has not consistently made the hard choices necessary to achieve full impact from its engagement. FCS typically require long-term, patient modes of engagement that do not fit well with the IMF's standard business model. Efforts have been made in the past to adapt IMF policies and practices to FCS needs, but initiatives have not been sufficiently bold or adequately sustained, leaving questions about the credibility of the Fund's commitment in this area."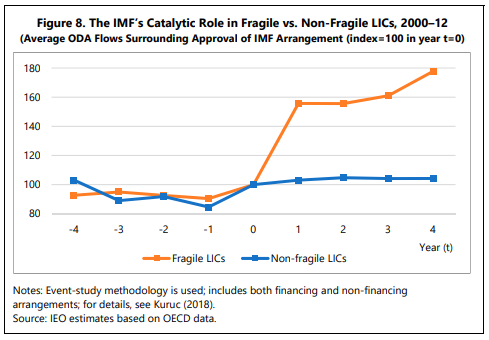 Continue reading here.