Global Housing Watch Newsletter: April 2018
In this interview, Issa Faye, El-Hadj M. Bah, and Zekebweliwai F. Geh discuss their new book—Housing Market Dynamics in Africa.  Faye is currently a Director at the International Finance Corporation and formerly a Manager at the African Development Bank. Bah is Principal Research Economist also at the African Development Bank. And Geh is a Policy Advisor also at the African Development Bank.
On the main message…
Hites Ahir: The opening line of this new book says: "(…)  this book comes at a very critical time for Africa." Can you elaborate on this?
Authors: The aftershocks of the global economic downturn continue to stymie growth. Low commodity prices and a sluggish global economic growth has slowed down the growth momentum in several African countries. At the same time, the continent's rising urbanization is putting immense pressure on the already stretched urban infrastructure in various cities, while growing debt level is lowering the ability of governments to mobilize external sources of finance. Moreover, Africa's growing youth unemployment is a rising threat that demands urgent action. Addressing these problems require an economic transformation that will create jobs, reduce poverty and inequality. Leveraging the abundant workforce for manufacturing and labor-intensive industries should therefore be encouraged.
Hites Ahir: In a nutshell, what is the main message of this book?
Authors: Five key messages emanate from our research. First, Africa is facing a looming housing crisis as the affordable housing supply dwarfs demand, particularly in the formal sector. This annual shortage is adding to the existing large deficits observed in many cities across the continent. This has led to the proliferation of slums. Second, while addressing the affordable housing shortage will be a huge challenge, it also presents an opportunity for structural transformation and inclusive growth in Africa. Third, creating an enabling environment for the supply of affordable rental housing should be part of any national housing strategy. Fourth, strong political leadership is crucial for transforming the sector. Governments need to effectively implement their role as regulators, input providers, and facilitators. Last but not the least, we argue that development financial institutions have a catalytic role to play by assisting governments in fulfilling their various roles, as well as provide long-term financing needed for the development of affordable housing finance markets.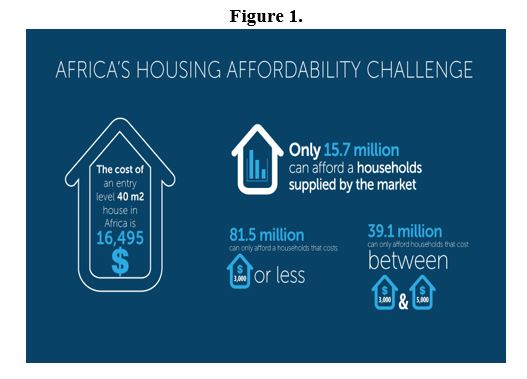 Hites Ahir: How different is this book compared to the work that the Center for Affordable Housing Finance in Africa, the World Bank, and others have done on Africa?
Authors: This book offers the most comprehensive coverage of issues related to housing development in Africa. It is the result of not only desk research but also of extensive consultation with stakeholders on the ground. This has guided the proposed solutions.
On large housing deficits…
Hites Ahir: The book says: "The rapid urbanization rates and lack of urban planning have resulted in very large housing deficits, defined as the difference between the number of households, and the number of permanent dwellings.". Can you tell us in numbers how big is the housing deficit in Africa?
Authors: We conservatively estimate the deficit to be at least 50 million housing units (50.6 million to be precise). We should emphasize that this is a rough estimate given the absence of recent housing census data in all countries. Generally, the most populous countries have larger deficits.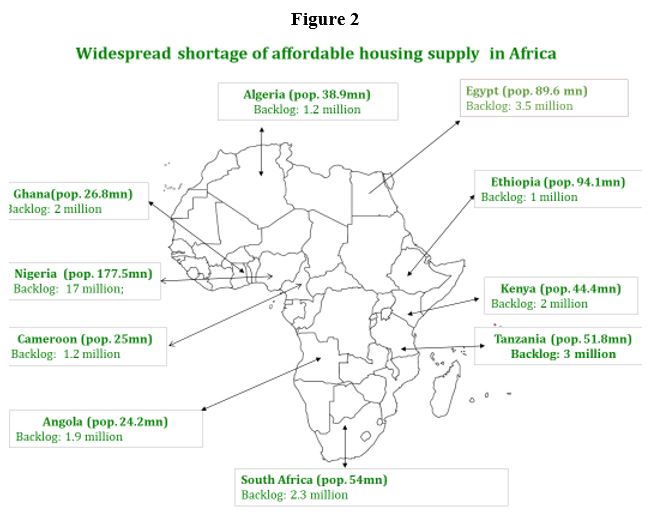 Hites Ahir: What explains these large housing deficits across countries?
Authors: Several factors explain the large housing deficits observed in the continent. Rapid urbanization fueled by rural to urban migration and endogenous population growth is raising the demand for housing. However, the supply of housing has been insufficient for several reasons. First, poor urban planning is hampering urban expansion through limited supply of land and infrastructure. Second, multiple land tenure regimes, and inadequate land administration and governance systems contribute to land tenure insecurity and the high costs of urban land. Third, high construction costs make housing unaffordable to the majority of low and middle-income households.  Furthermore, underdeveloped housing finance markets imply that most Africans can only rely on self-financing and incremental construction mechanisms to acquire housing.
Hites Ahir: What are the social and economic consequences of housing deficits?
Authors: Housing deficits in Africa mean that a large percentage of Africans live in slums, which is characterized by poor housing conditions and lack of basic infrastructure such as roads, electricity, piped water and sewage. A large literature has shown that those living conditions lead to poor health conditions (e.g. malaria, cholera, tuberculosis, respiratory diseases, stress and depression), lower educational attainment, insecurity and an overall poor contentment with life. These poor health outcomes lead to lower work productivity and increases the disease burden of countries. Moreover, lower educational opportunities for children in slums implies lower overall human capital in the future.  Large housing deficits also imply higher housing costs, which means that overall savings and investment in productive activities will be lower.
Hites Ahir: What can be done?
Authors: A one-size fits all approach will not resolve Africa's housing deficit. Possible solutions should take into account country specific challenges. However, comprehensive policies should simultaneously address constraints on the supply and the demand sides. The challenge on the supply side is how to increase the availability of affordable housing. Actions that will have great impact include updating urban plans, taking into account recent socioeconomic developments; reforming land administration and governance systems with the aim of improving tenure security, increasing the supply of well-located plots and lower overall land costs; and lowering construction costs.  On the demand side, financing mechanisms, including guarantees, are needed to enable households to undertake the acquisition of housing overtime.
Hites Ahir: How much will it cost?
Authors: We estimate that eliminating the housing backlog of 50.6 million in 10 years will cost at least US$2.08 trillion.   This estimate is based on the average construction cost for Africa and an assumption on the typology of housing needed and housing demand. While this number is large, such spending would add at least US$5.07 trillion to Africa's GDP.
On the link between construction and inclusive growth…
Hites Ahir: Even with all the challenge that you have mentioned earlier, there is also an opportunity for Africa. The book says: "housing construction is a source of inclusive growth". Can you elaborate on this?
Authors: Housing construction is labor-intensive with the construction of one housing unit creating between two and six full-time equivalent (FTE) jobs for at least a year. In addition, the sector employs a large number of young people with low skills. The strong forward and backward linkages also means that growth in the construction sector will stimulate growth in other sectors such as manufacturing.
Hites Ahir: The book points out that construction costs are high in Africa compared to other part of the world. What explains this?
Authors: Failures at different steps of the construction value chain explain the high construction costs. The largest factor is the high costs of building materials, which represents more than 50 percent of the construction costs. Limited supply of construction materials, monopoly pricing and a large share of imports contribute to high building material prices. Government regulation and administrative burdens also plays an important role. For instance, we find that the time required to obtain construction permits is positively correlated with construction costs. Another factor is the lack of capacity of construction companies and lower technical skills of construction workers. In most countries, housing construction is dominated by small and medium enterprises with little or no capacity to deliver 500 housing units per year.
Hites Ahir: What have countries done to reduce constructions costs? Are there any quick and easy remedies that policymakers can implement?
Authors: The book discusses seven actions that can reduce construction costs. Here, we will mention just three. Labor-intensive industrialized construction has great potential to lower costs and accelerate housing delivery. This approach is being pursued in Ethiopia. Local production of building materials can also have dramatic effects on construction costs. For instance, in Zambia, cement prices decreased by 40% between 2014 and 2015 following the commissioning of a new production plant. Alternative building technologies, including the use of local building materials such as compressed stabilized earth blocks have shown that they can reduce construction costs. However, cultural biases and outdated building codes among other have prevented these technologies from taking off.
Concluding thoughts…
Hites Ahir: When working on this book, what would you say was the biggest surprising finding?
Authors: The cross-country variation of construction costs is perhaps the most surprising finding.  It costs 5 times more to build a house in Congo than in Morocco.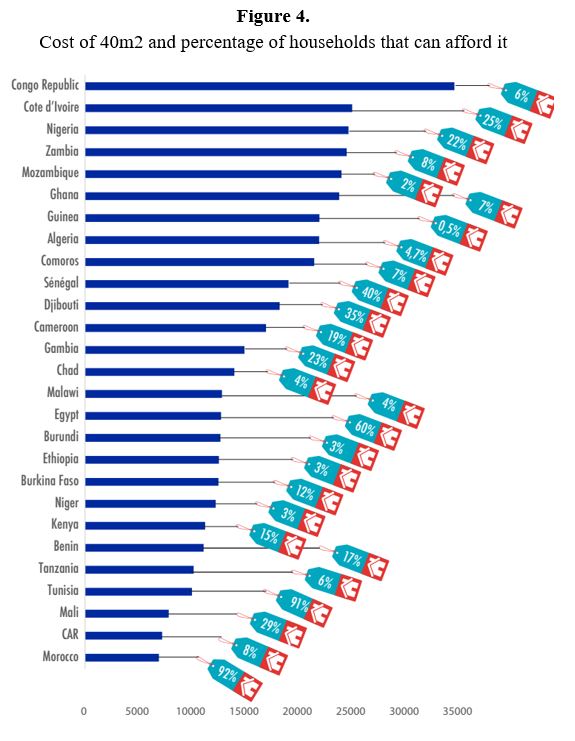 Hites Ahir: With all the challenges that you have briefly described, which one you think will be the hardest to tackle? Why?
Authors: Government regulations and administrative burden is probably the hardest to tackle. Our analysis of the housing value chain shows that government failures are at the heart of many constraints on both the supply and demand sides. While a number of governments are undertaking regulatory reforms, effective implementation remains limited.
Hites Ahir: Is there a success story emerging from Africa—a country that is doing well in managing the housing market?
Authors: Ethiopia and Morocco are two countries that have shown great leadership and experienced great successes.
A final note: In our view, creating a conducive enabling environment, adopting and implementing a comprehensive housing strategy, as well as the existence of strong political will are prerequisites for addressing the continents housing crisis.