From Federal Reserve Bank of St. Louis: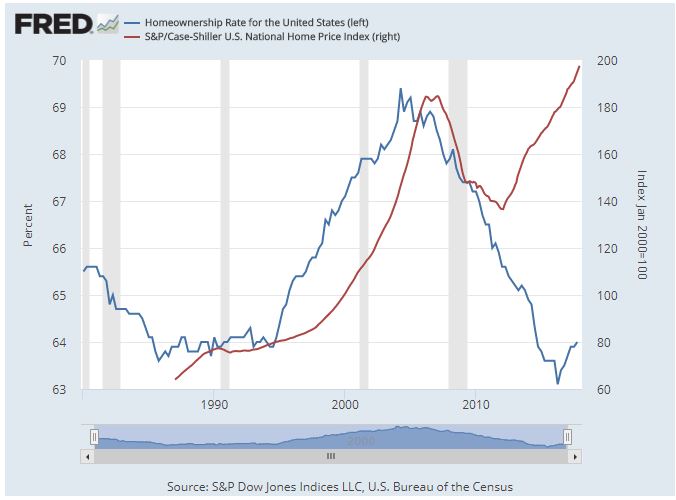 "Historically, the cost of buying a house has been positively correlated with the percent of households that own their home. During 1996 to 2006 in the United States, both the price of houses and the homeownership rate increased. This increasing trend ended abruptly with the global financial crisis, which saw house prices plunge and drove homeownership rates to historically low levels. If homeownership became less attractive in the wake of the financial crisis, we might expect both prices and homeownership to decrease. Similarly, if the current increase in house prices were driven by people buying homes to live in, we might expect the homeownership rate to increase along with prices. However, recent evidence shows that house prices and homeownership are diverging.

The graph shows that, in the wake of the financial crisis, house prices declined by over 25 percent, from an index value of around 180 to around 135. The homeownership rate also dropped from a high of over 69 percent to just over 63 percent, its lowest level since 1980. Unlike in the past, the homeownership rate continued to fall even after house prices began to recover.

Several factors could be driving the decoupling of house prices and the homeownership rate. From the housing supply side, there is a trend toward decreased construction of starter and mid-size housing units. Developers have increased the construction of large single-family homes at the expense of other segments in the market. This limited supply, particularly for starter homes, could result in increased prices for those homes and fewer new homeowners."

Continue reading here.