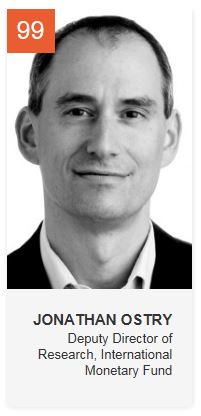 PATH TO POWER: Ostry earned his BA from Queen's University in Canada when he was just 18 and went on to receive a BA and MA from Oxford, an MS from the London School of Economics and a PhD in economics from the University of Chicago. He joined the IMF in 1988 as an economist in the research and European departments, and has held a variety of roles in the years since, including heading up the group's influential biannual World Economic Outlook survey. He became deputy director of research in 2006. Ostry writes prolifically for publications including The Economist, the Financial Times and the Wall Street Journal and has been cited in economic remarks by President Obama.
POWER PLAY: Ostry has been pursuing research seemingly at odds with IMF orthodoxy for years; in a 2014 Financial Times article, for example, he decried inequality and argued for "a more redistributive tax system." But he made his biggest splash in June of this year when he coauthored a paper simply titled "Neoliberalism: Oversold?," published in the IMF's own Finance & Development magazine. In it, Ostry lays out a deeply researched argument against austerity and wholesale capital account liberalization, neoliberal policies that have been gospel at the IMF for decades. The month before the paper's release, the IMF called for massive debt relief for Greece.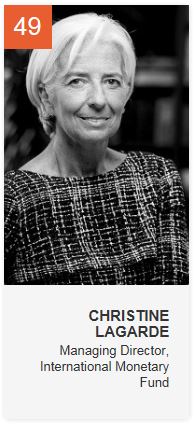 PATH TO POWER: The native Parisian specialized in antitrust law at Baker & McKenzie for 24 years before entering French politics in 2005. She began as a trade minister in Jacques Chirac's cabinet, and was Nicolas Sarkozy's agriculture and, later, finance minister. In 2011, she took over as managing director of the IMF from Dominique Strauss-Kahn, who stepped down after being charged with attempted rape.
POWER PLAY: Though Lagarde has been widely credited with restoring the IMF's credibility following the scandalous exit of her predecessor and for being the voice of reason during the Greek debt crisis, she has been dogged by her role in the decade-old Bernard Tapie affair involving accusations of corruption in the sale of Adidas. Her decision as French finance minister in the 2008 case led to a 404-million-euro arbitration payout for Tapie, who had ties to Sarkozy. That payment was eventually annulled and Lagarde was absolved of wrongdoing, but a recent corruption probe into the incident has her facing negligence charges and up to one year in jail. Despite this distraction, the IMF appointed Lagarde to a second term in February, and she continues to receive its board's support.
For the full list click here.