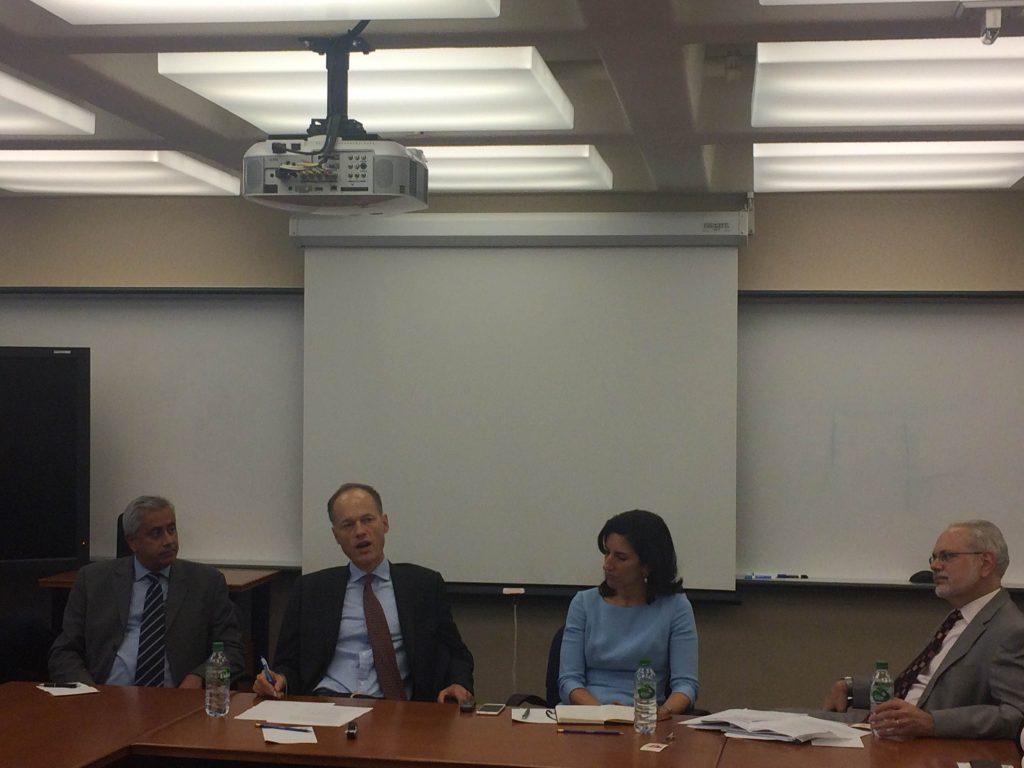 From left to right: Prakash Loungani, Sebastian Mallaby, Rana Foroohar, and David Wessel at an IMF Book Forum on Mallaby's new biography of Greenspan
I had a few interactions with Greenspan in 1997-98 when I was one of the analysts for Asian economies at the Fed. One day in late-1997, he met with a group of us to think through what he should say in testimony to Congress on the Asian crisis. He started talking about the housing boom that had been underway in many of those countries. "It was a case of conspicuous construction," I blurted out. He loved the phrase and used it in his testimony a couple of times.
My other interactions with him were all on Indonesia and I did not come out looking good in any of them. He had asked me for money supply for Indonesia. I gathered the data on the monetary base and the credit aggregate that he had asked for. But somehow when I added the two I was getting garbage numbers – some errors in my spreadsheet that I couldn't figure out. Around 6.45 pm – it was a Friday — Greenspan called me himself and said "I'm still waiting …". I told him what was going on. He said "Just bring up the base and credit numbers and I'll add them myself over the weekend." When I got home I told my wife "We're not eating lunch in this town again. In fact, we're never eating lunch again as the Fed chair is going to tell everyone I'm an incompetent." My wife said I should just take the correct numbers on Monday morning because he probably wouldn't get around to working on them over the weekend. Sure enough, that's what happened: when I gave him the correct table on Monday, he said with a smile, "The weekend shaped up differently."
Another time, he asked for detailed sectoral price data for Indonesia. A possible hyperinflation was looming and he wanted to study it in his spare time on the weekends. I dutifully photocopied pages from Indonesian statistical manuals in the Fed library. The names of the sectors were in Bahasa but in all cases but one it was easy to guess the English equivalents. I circled that sector's name and wrote a note in the margin for my research assistant: "Find out which sector this is – old geezer will want to know." Some instinct of self-preservation must have kicked in because I then crossed out "old geezer" quite thoroughly and wrote "Chairman". Somehow the pages with my note still on there made it to Greenspan and came back with a note from him: "You're right."
My last interaction with him was while I was still at the Fed but had accepted a job at the IMF. He had asked a small group to brief him on the political situation in Indonesia. At one point he turned to me and asked, "Prakash, what do you think? Is Suharto going to survive?" (As an aside, my boss Tom Connors told me after the briefing: "The Chairman just learned to say your name and say it right. Are you sure you want to go the IMF?") I had prepped up for Greenspan's expected question by reading a ton material including all the State department cables. I confidently went in a long explanation of why Suharto would survive. A month later, Suharto was gone. But luckily, so was I.