From Global Housing Watch Newsletter: July 2016

Issi Romem is the Chief Economist at BuildZoom—a start-up in San Francisco. For this issue of the Global Housing Watch newsletter, he talked to Hites Ahir about BuildZoom and what it offers, whether the expansion of American cities has slowed down, and what BuildZoom's data tell us about the current state and the short term outlook for the U.S. housing market.
Hites Ahir: Tell us a bit about your background and what sparked your interest in housing markets.
Issi Romem: In pursuit of my life long passion for observing and understanding cities, I earned a PhD in economics at the University of California at Berkeley. Economics offers a particular lens with which to analyze cities and contains several fields that relate to them. I chose to focus on labor and housing markets. As the Chief Economist at BuildZoom, I leverage my role to continue studying cities in alignment with the company's needs.
Hites Ahir: Tell us about BuildZoom and your role in the company?
Issi Romem: BuildZoom actively helps people find good, reliable and communicative contractors, and helps see the projects through to completion. In order to inform the matching of people and contractors, BuildZoom collects data on contractor licensing as well as a growing national repository of building permit data. BuildZoom makes the data easy and free for the public to view on the web, which is particularly valuable because – unlike customer recommendations or photos – a paper trail of building permits shows a contractor's professional experience in a way that cannot be falsified.
My role at BuildZoom includes the production of data-driven content for the website, as well as oversight of data science and the company's data collection efforts. The data-driven content includes the production of economic indices of remodeling and new construction activity, as well as one-off economic analyses. It also includes trawling new building permits for newsworthy information, such as projects undertaken by companies that are particularly interesting to the public.
Hites Ahir: In the United States, there are a lot of companies that provide data and analysis on the U.S. housing market. So what is unique about BuildZoom?
Issi Romem: BuildZoom's data sheds light on all types of new construction and remodeling activity. Remodeling, in particular, is an otherwise hidden aspect of the nation's real estate stock, on which there are very few sources of information. Moreover, as some of the greatest metro areas in the nation restrict their supply of new housing, more and more of the action in these cities' real estate markets involves the renovation and/or repurposing of the existing stock of structures, into which BuildZoom's data sheds light.
Hites Ahir: You recently wrote on whether the expansion of American cities has slowed down. What is the verdict?
Issi Romem: The expansion of American Cities as a whole has not slowed down. It has kept progressing at a more or less steady pace each decade since World War II. However, there are important differences between cities. One group of cities, consisting mostly of large coastal cities, have indeed slowed down their expansion, and in so doing have channeled their economic strength away from population growth and into housing price growth. I refer to these as expensive cities. Another group of cities, mostly in the south, have continued to expand with gusto, and as a result have experienced tremendous population growth while maintaining housing prices at affordable levels. I refer to these as the expansive cities, with an a. Finally, a third group of cities mostly in the rust belt had thriving economies in the past, but have lost much of their economic base, and experienced neither housing price growth nor population growth. I refer to this last group as legacy cities. See the full report here.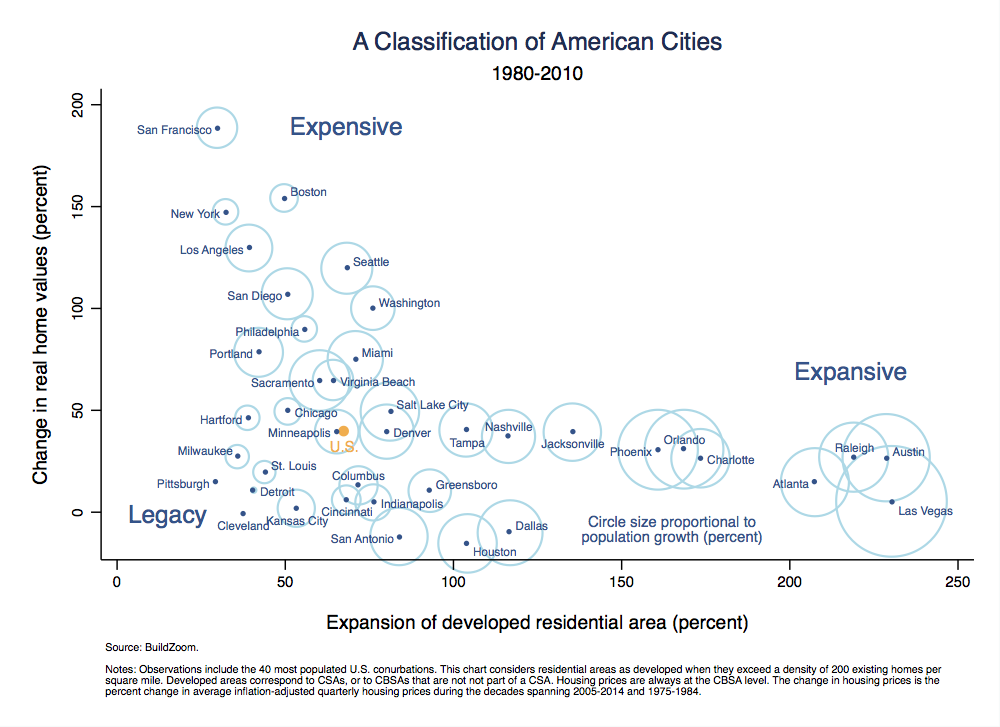 Hites Ahir: Based on BuildZoom's building permits and remodeling data, what can you tells us about the current state of the U.S. housing market?
Issi Romem: The index tells us that, during the last decade's boom and bust cycle, residential remodeling peaked and plummeted in sync with residential new construction. However, it also tells us that during the bust, new residential construction suffered much more than residential remodeling, and that residential remodeling is currently much closer to its pre-bust level than new construction. During downturns, new construction essentially grinds to a halt, but remodeling combines procyclical elements, like renovations preceding or following a home sale, with elements that are acyclical, like maintenance. The latter keep fluctuations in remodeling less pronounced than those of new construction.
Hites Ahir: What is your view on the short term outlook for the U.S. housing market?
Issi Romem: Predicting where the housing market is going in the short term is tricky business. I suspect that a downward correction in housing prices is possible, but far from certain, and that if it occurs it will be very minor compared to the previous decade's bust, and will be concentrated in the expensive coastal cities. If and until such a correction occurs, we are likely to see particularly robust housing price increases in places that receive the greatest influx of homeowners migrating out of the expensive coastal cities. Portland (Oregon), Seattle and Denver, for example, draw particularly large inflows of former residents priced out of California. Such places are also susceptible to experiencing a price correction if the influx of homeowners migrating out of the expensive coastal cities were to ease, following a price correction there.